Please continue to take basic precautionary measures to prevent the spread of COVID-19.
Take basic precautionary measures (wearing a mask, washing hands, avoiding Three Cs) to prevent the spread of COVID-19.
The traditional craft of Miyajima
The traditional craft of Miyajima has the history for 200 years.
It has been exhibited. This was established because of the training of successors.
People's works under activity have been exhibited in exhibit rooms now.
There are practical room and a training room, etc.for the training of successors.
This is the place where you can learn the history and traditions of Miyajima through
hands-on experiences.
The Miyajima Traditional Handicrafts Center is a three storybuilding.On the first floor,
visiters can see and buy displays of traditional Miyajima handicrafts.
Engraved trays, engraved tea utensils, clay bells, and papier-mache are a few of the
items on display.
On the second floor, you can try making Momiji Manju (maple leaf shaped waffle).
On the third floor, you can create your own Shakushi (rice scoop)&Miyajima-bori
Carving. Instructors are available to assist you with your projects.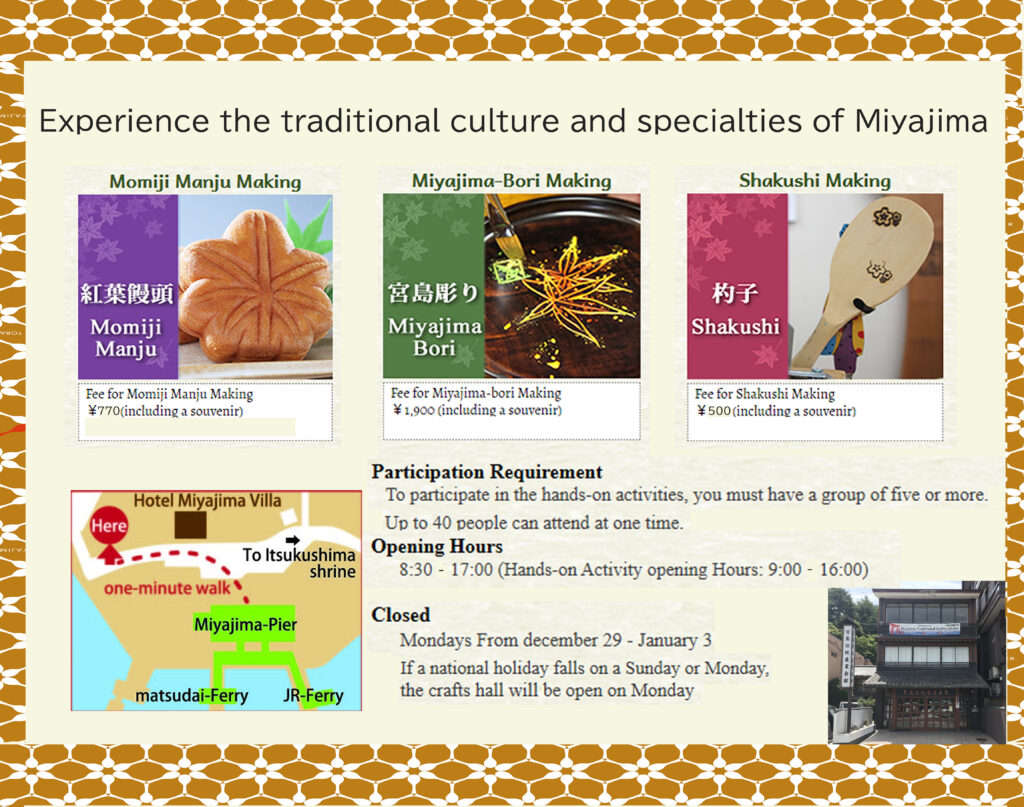 Miyajiman Workshop
Hands-on 3-activities
The hands-on experience which can be enjoyed by adults and children alike has 3 activities: momiji manju (maple buns) making, shakushi (rice scoop) making and Miyajima-bori (Miyajima carving).
① Momiji Manju Making Experience(Fee:\770)
② Shakushi Making Experience(Fee:\500)
③ Miyajima-Bori Making Experience(Fee:\1900)
Participation Requirement
To participate in the hands-on activities, you must have a group of five or more. Up to 40 people can attend at one time.
Opening Hours
8:30-17:00 (Hands-on Activity opening Hours: 9:00 – 16:00)
Closed
Mondays From december 29 – January 3 (If a national holiday falls on a Sunday or Monday, the crafts hall will be open on Monday
Point of Contact
To make a reservation for a hands-on activity please contact the Miyajima Traditional Handicrafts Hall;
E-Mail:info@miyajimazaiku.com